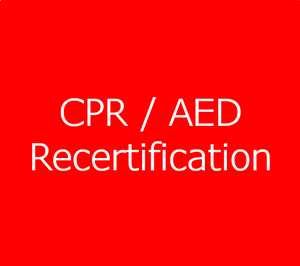 CPR / AED Level A or C - Recertification
ATTENTION: Class may show unavailable - please modify selection criteria to find a date, location and time that is suitable.

This course involves 4 hours in-class - there is no online component.

Prerequisite: CPR/AED Level A  or  CPR/AED Level C
*Previous certificate must be valid. Expired certifications are not eligible for renewal
Canadian Red Cross - CPR / AED Level A or C - Blended
This course provides the skills needed to recognize and respond to cardiovascular emergencies and choking for adults. It includes using an automated external defibrillator (AED), also known as the 'shock machine'.
Courses are suitable for those looking for training for the workplace or for their own general interest.
Requirements for completion:
Skills demonstration
100% attendance
Grade of 75% on written test
Upon completing the course successfully, participants will receive:
3 Year Certification in CPR / AED Level A or C
Duration: 6 hours
This course is offered at our downtown Toronto location. View Map.
Toronto First Aid has a NO REFUND policy as a lot of effort goes into planning our courses and scheduling our instructors. However, if you contact us more than 48 hours in advance we would be happy to reschedule you to another convenient day or hold a course credit for you.